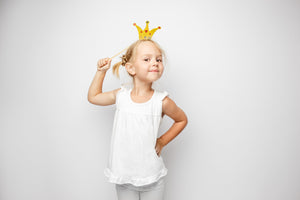 While summer programs can easily be the lifeline for a studio's "off-season" finances, all of that summer fun can also be leveraged into an influx of new students for the fall. The opportunity to give prospective students and parents a window into how it feels to be a part of your studio is something you should be prepared to take full advantage of. Here are some ways to make this summer into an even better fall!
Get the Word Out:

Your current students should be the first group to hear about the summer programs that you'll be offering. Every year, our studio sends a Summer Survey that allows our families to give some input on what classes/camps they would be interested in. This invests them in the process, gets anticipation going for the summer offerings to come, and gives us an idea of what our students are most interested in. This way, you'll be able to set a slate of classes and camps that will be more likely to fill up toward capacity.

"Invite Your Friends!":

This should always be a practice for your studio even during the first month or so of regular classes. Have your teachers and studio staff continuously remind your families that the summer offerings are open to everyone, so if they know of friends who may enjoy the camp, invite them to sign up as well. If you can give them an extra brochure and registration form or two, all the better!

Offer An Incentive:

 We always offer $5 off of a class or camp for filling out our Summer Survey, with an expiration date a few weeks later.  This drives more families to register for Summer Classes and Camps early and helps us gauge which summer programs are filling up quickly and need additional times.

YOU are the Biggest Incentive:

A great way to bring in more students is to reinforce with your teachers and studio staff to get to know as many of your new students as possible. After all, there's no bigger incentive than a great atmosphere with attentive and caring staff. Make sure that your office and support staff are ready to answer any questions that they may get about the upcoming year and if you can, have your prior year's recital playing on a loop for prospective families to really get a sense of where their dance journey will lead them. 
All of the tips above may seem like basics, but you would be surprised how well this simple plan can boost word of mouth. Don't forget to boost your profile by posting photos and videos of all the fun you are having on your social media channels!
---
Erin Sforza studied dance from childhood through college. She received a BA in both Musical Theatre Performance and History from the University of Tampa, and has utilized aspects of both degrees working in the hospitality industry, as an Event Coordinator for the Heckscher Museum of Art in Huntington, and as the PR/Marketing Coordinator and Group Sales Coordinator for the CM Performing Arts Center. She currently manages Public Relations for the Penny Prima® brand and Dance Connection.