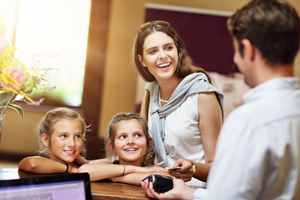 Every studio owner and staff member works incredibly hard to make the best possible impression for every prospective new student that visits their studio. One of the most crucial elements that may be overlooked, especially once classes start, is the registration process. Here are some tips to help your studio create a streamlined and easy-to-understand process that will complete that fabulous first impression:
Easy to Access Info:

A great way to make registration easy on both new dance parents and staff is to make sure you put together a flyer or booklet that answers all the questions that parents didn't even know they had, and places that info at your staff members' fingertips. You should include info about the class itself, requirements, dress codes, contact information for your staff, events that happen during the year, recital info, and tuition and fee information. 

Process Is Key:

Make sure that your staff is well trained in how to register new dancers from start to finish. When your reception desk is busy, your staff will need to be able to process registrations both quickly and efficiently without making new parents feel rushed through the process. 

Have Everything in Reach:

In our studio, we have several pieces of information readily available to our Reception staff. They have a set of step-by-step instructions on how to register our new dance families. This way if it is one of those days where everything is happening at once and their attention is pulled away, they can pick right back up where they left off. We also have our tuition rates clearly displayed on a laminated card at the desk to take any guesswork out of quoting monthly tuition to parents. 

Personalize the Experience:

Registration shouldn't feel like a process, even if it is streamlined. Having your staff ask lots of questions as they go through the registration about the dancer, about their dance history, discussing what to expect the first few weeks with brand new dance parents, and addressing both the parents and the dancer by name. If the family can be introduced to their teacher by the staff, that is a great way to make them feel valued. 

Follow Up:

This can mean asking how the class went after the students come out, but a great follow up is to send a class confirmation email that gives them the pertinent information about their classes. A simple gesture like this gives you another opportunity to touch base and thank them again for becoming a part of your studio family. 
Registration during the dance year can be difficult to make a priority, but if you put the right processes into place you can make every registration easy while making it a part of your studio's fabulous first impression.   
---
Erin Sforza studied dance from childhood through college. She received a BA in both Musical Theatre Performance and History from the University of Tampa, and has utilized aspects of both degrees working in the hospitality industry, as an Event Coordinator for the Heckscher Museum of Art in Huntington, and as the PR/Marketing Coordinator and Group Sales Coordinator for the CM Performing Arts Center. She currently manages Public Relations for the Penny Prima® brand and Dance Connection.