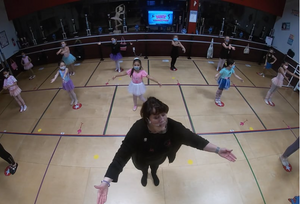 Penny Prima's 5678 (Welcome Song) is the perfect way to start off your young dancer classes!  The song and dance are a great way for your dancers to say hello to all of their dance friends and introduce the Penny Prima storybook character.
There are two versions of the song, a shorter 1:06 version for younger classes, and a 1:45 extended version with an extra verse for your older beginner dancers.  You can always start with the shorter version and work your way up to the extended version as the year progresses and you want to add more movement to the choreography.
In the video, you'll see how much little dancers LOVE to hear Penny Prima's voice and dance to her song!  You will also see our suggested choreography.  Feel free to make adjustments as it works best for your class.  In younger classes, you can have dancers stay in one spot for the song, while when the dancers are a little bit older, you can have them start in a circle and then transition to other spots before Penny sings "and face the mirror now".
Of course, encourage your dancers to sing along with Penny as you start another amazing dance class off with a "5678!"
You can find the song for free on Spotify, Apple Music, and Pandora using the links below.  If you don't subscribe to either platform, you can find the song on iTunes for 69¢ or download the MP3 files below.
Suggested Choreography
Download Audio Files 
5678 (Welcome Song) – Extended
To download, right click the link above and select "Download Linked File As..."