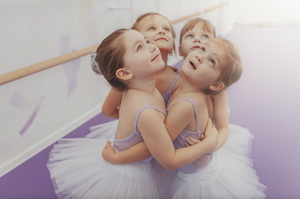 We're starting a new series today that will help to tie dance into the larger goal of making sure that our students can apply what they have learned beyond the classroom. Today we'll be talking about positivity and how we can apply it in the classroom and help our students to carry it into the outside world. 
When our dancers enter the studio, they have an opportunity to leave behind all the stressors and worries and lose themselves in the joy of dancing. Teachers have an amazing opportunity to reinforce positivity throughout their lessons, and to help students to begin to practice the art of positivity in their daily lives. There are lots of ways to do this for your students. I love seeing positive statements and mantras decorating our studio rooms. It may seem like a little thing, but when you read the same phrase entering and leaving your classroom every week, or multiple times per week for our more advanced students, it definitely can make an impact. 
It's also a great idea to model the kind of behavior you want to see in your class. Positivity about being in the classroom, especially when we, as teachers, are having a difficult day ourselves, can help us as much as our students. If they see that their teacher is happy to be there and see them, it validates them and puts them in a better head space for dancing. Positive reinforcement of what they are doing well during class and acknowledging moments where each dancer excels are key to teaching positivity. When our students see us building them and their fellow dancers' confidence it sets the tone for how everyone is to treat each other. 
Moving this positive and affirming atmosphere outside of the classroom is the trickier part. Social media use and the ever present pressures that our students feel don't usually lend themselves to positivity. The children that come in and out of our studio are not being rewarded often enough for building people up, instead they are usually just trying to avoid being targeted by their peers. So how do we counter this? In our studio, we have codes of conduct for our performance groups and our Teacher Training Program. These dancers, many of whom are older, more advanced dancers, are asked to be representatives of the studio. They set the tone for how our students behave both inside and outside the classroom. We have team building exercises that help them to bond with each other, and we encourage and reward them by acknowledging when they are being good teammates and setting a good example. 
We've found that the more our dancers "practice" positivity in the classroom and around the studio, the more it becomes second nature to them. However, like dance, positivity requires practice and dedication, and the guidance of good teachers.  
---
Erin Sforza studied dance from childhood through college. She received a BA in both Musical Theatre Performance and History from the University of Tampa, and has utilized aspects of both degrees working in the hospitality industry, as an Event Coordinator for the Heckscher Museum of Art in Huntington, and as the PR/Marketing Coordinator and Group Sales Coordinator for the CM Performing Arts Center. She currently manages Public Relations for the Penny Prima® brand and Dance Connection.