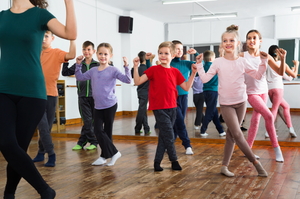 In this installment of our "Life Lessons" series, I wanted to touch on how your studio can help to teach young dancers to develop one one their most important skills...work ethic. I call this a skill because while some people start with a better natural work ethic or foundation of how to apply themselves, work ethic is definitely something that can be modeled and taught. 
It would come as no surprise if at times during our teaching careers into our time as studio owners we wondered why there were some more dedicated students who grasped exactly how much work it would take to develop, and some who expressed the desire to progress in their skills, but didn't seem to "want it" as much. Sometimes it's not a matter of desire, but of the skill set to make that happen.
The best possible way to help those students along? Make it plain what they need to do, and set expectations with them, instead of for them. We do this in the classroom as dancers begin a new skill, talking through the steps they'll need to take, and sometimes going as far as a practice plan for it. Our Acro students have a workbook that they use to track their progress and their goals for the year. Every year we put out blog posts that walk our students (and parents) through setting goals and then we send out one that prompts them to evaluate how far along their path they are and to readjust if necessary. Our company dancers have to meet certain criteria before they can have Trio, Duos, and Solos, and there have also been mandatory practice requirements put into place when necessary. 
Your teachers should be encouraged to be a part of this kind of goal setting, and to follow up with their students. There is no better way to motivate good habits than positive reinforcement from a teacher that they truly admire! Whenever possible make sure to loop parents into the process with stories of their child's success.You can also make use of your time in the classroom to reinforce how their classroom work ethic can extend into their everyday life. Help them to understand that the feeling of accomplishment is a reward in itself and they will begin to seek it out on their own as they grow as both a dancer and a person outside the studio. 
Dance is a wonderful way to help set the stage for every student's future. We are so excited to know what techniques you use in your studio to help prepare your students for life beyond the classroom doors in the comments below!
---
Erin Sforza studied dance from childhood through college. She received a BA in both Musical Theatre Performance and History from the University of Tampa, and has utilized aspects of both degrees working in the hospitality industry, as an Event Coordinator for the Heckscher Museum of Art in Huntington, and as the PR/Marketing Coordinator and Group Sales Coordinator for the CM Performing Arts Center. She currently manages Public Relations for the Penny Prima® brand and Dance Connection.