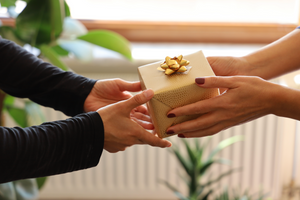 The holidays always bring out the spirit of giving in everyone, and with them fast approaching we thought we'd give everyone some ideas about how to give back through the gift of dance. 
Town Parades/Holiday Performances:  Right now we may not all be able to participate in these events, but hopefully soon they will make a comeback! Stay in touch with your town/county offices to see if they are looking for performers for holiday celebrations, tree lightings, and parades. When we are able, we usually participate in our town's holiday light parade in December. It may be chilly, but it definitely warms our hearts to see the smiles of all the local families along the parade route!
Start a Studio Giving Tree: One of our longest-standing traditions, we have cultivated contacts with local social workers through the school districts in our area and parents at our studio to adopt some local families in need during the holidays. They provide us with their holiday wish lists, and we turn them into paper ornaments that our staff and dance families can select and purchase. Wrapping the gifts for the families is one of my favorite holiday traditions, and is a great way to bring our staff together for an amazing reason. One of my fondest memories was when our Performance Team took up a collection to purchase the child's car seat that a family had asked for. 
Reach Out to Local Charities: There are tons of local charities that have holiday breakfasts or parties every year, and if you can put together a holiday themed performance that will add to the experience for their attendees it can be as fulfilling for your dancers as it will be for their audience. We were put in contact with our county's Make a Wish chapter, and have performed for their Holiday Party, Gala, and even been an addition to Believe Day Wish Ceremonies. Our dancers have always loved getting to dance with the families at the holiday party. Making them feel special is something that stays with them.
Benefit Performances: There are some charities that actively seek out performers for fundraisers and showcases during the year. We've performed at Dancers Responding to AIDS showcase that they hold annually at SUNY Purchase. Our dancers fundraise for the cause and then perform at the show. Lots of fun and a great sense of accomplishment.
Start Your Own Charity Performance: It's a LOT of work to set up a performance from the ground up, but if you find a Non-Profit Organization to partner with, you can make the show as involved or a simple as you want, and you can raise money for a great cause while spreading holiday cheer! We had a script written for our very own holiday spectacular that includes a heartwarming holiday story, lots of fun dances, and everyone gets involved, with teachers and even parents performing on stage! 
Your passion for dance can improve the lives of those around you, not just during the holidays but all year long. Let us know how you give back through your studio and your love of dance!
---
Erin Sforza studied dance from childhood through college. She received a BA in both Musical Theatre Performance and History from the University of Tampa, and has utilized aspects of both degrees working in the hospitality industry, as an Event Coordinator for the Heckscher Museum of Art in Huntington, and as the PR/Marketing Coordinator and Group Sales Coordinator for the CM Performing Arts Center. She currently manages Public Relations for the Penny Prima® brand and Dance Connection.