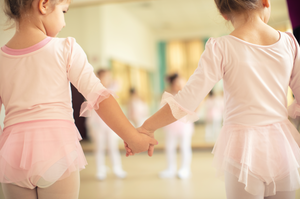 Sometimes we have so much to do as dance teachers that we forget or rush through the everyday things that go along with class. One of the core pieces to a class that can be neglected is beginning each class. We all want to make sure that our families feel welcome in our studio, but sometimes we can be so in our heads about all the things we need to get done in that hour, we don't bring that "welcome" into our classrooms. Here are tips on how to start every class with purpose and that all important "Welcome!"
Be A Greeter!: This is especially important for your youngest dancers who are still just beginning to develop a love of dancing. Seeing a teacher's smiling face or hearing them call you by name and say how happy they are that you are here for class means the world to them. Even for older, more experienced dancers that greeting could turn around a particularly difficult day and reinforce that dance class is a safe space to rid themselves of a rough day. 
Have a Welcome Routine: This works really well with our little ones in Pre-School all the way up to our 6-7 year old students. We use our "Welcome Song" and our youngest dancers begin every class with Penny Prima helping them to get ready for a fun class filled with learning! You can download the song and see a choreography video here! For older students, I try to incorporate the welcome routine by asking how their day or week is going prior to warming up. When doing this you really need to listen though, because you will be amazed at how much you learn about your students and their state of mind in those quick minutes!
Review: Another great way to get everyone's head back into "dance mode" is to have them review for a few minutes before starting class. It gives them time to get a little bit more secure in last week's choreography and to bond a little with their classmates. 
Warm Up & Mix It Up: This really depends on your preference, but warm ups can build on themselves every week until a predetermined point in the year and then your class is working to master each movement. If you see your students' attention starting to drift (it happens to the best of us!), it may be time to introduce the next step in your barre routine or to try something new entirely. 
It can seem like a very little thing to focus on the start of your class, but that focus can make a big difference in how your students approach the entire class, and how much you will be able to get done. What are your best tips for starting class? 
 
---
Mary Naftal is the owner and artistic Director of Dance Connection in Islip, New York. With over 40 years of teaching experience, Mary holds a degree in Early Childhood Education from Long Island University. Her work as an arts educator has been recognized with an inclusion in "Who's Who Among America's Teachers" and being named a "Teacher in the Spotlight" in Dance Studio Life Magazine.  She is a long-standing member of Dance Educators of America, and a member of the National Dance Education Organization and the New York State Dance Educators Association.