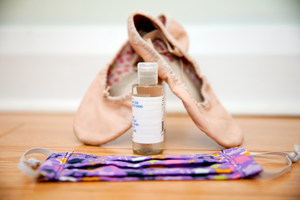 This past year has been challenging for dance studios to put it extremely lightly. From learning how to teach kids of all ages over Zoom, to figuring out if and how you can have a safe version of a recital to give your students closure, to re-opening safely with ever-changing guidelines that haven't always been geared to our industry. Last summer, our studio was thankfully able to hold summer camps and classes while also debuting our new safety measures and pandemic guidelines. We learned a ton about what worked and what didn't, and in the process created a great way for other studios to increase their revenue during the summer without having to put a lot of work into the "how" of it all. 
Our Penny Prima: Royal Tea Party Adventure Camp Package will give your studio the ability to have a summer camp for ages 3-6 that will not only delight your students, but give you the benefit of receiving a "Ready for Adventure" experience that takes the stress and preparation off the shoulders of teachers and studio owners. This camp was created to be adaptable to current CDC safety guidelines and can be adjusted as those restrictions are relaxed to make planning as easy as possible.
The  Royal Tea Party Adventure Camp includes immediate downloads of the logos and marketing resources that your studio will need to get the word out about the Penny Prima fun that will be coming to your students. Right now, many families are looking to fill the summer months for their kids and you want to make sure they are considering your programs!  Your Penny Prima Camp will include all the supplies needed to creatively engage your campers through movement, music, and storytelling:
A copy of Penny Prima: Once Upon a Time storybook

Roll of Penny Prima Stickers

Teacher Guide outlining activities, crafts, games, music suggestions, sample schedule, and end-of-camp showcase recommendations

One Penny Prima song, sung by the characters themselves

Video Guide for dance combinations

Ten Coloring Sheet Designs

Ten Craft Activity Ideas

Six Dance Game Ideas

Printable Certificates

Printable Event Invitation

Shopping List and Decoration Suggestions

Listing on the Penny Prima website as an authorized camp location

Camp logo pack

Marketing Resources for social media platforms, email, web, and print

Engaging camp description to use in promotional materials
And much more! You can click here to see everything that is included. You will also be listed on the Penny Prima website as an authorized camp location! Right now we are offering Pre-Sale Discounts that will get you all of this wonderful creative content for special pricing! The discount lasts until April 30th, and the Teacher Guides and Camp Materials will be delivered by May 1st so that your studio and camp staff will be ready for some royal adventure! The camp is designed for a five day length at 2-3 hours per day with the activities and suggestions included, however it is optimized to be extended and shortened as needed for your studio's schedule, with tips included in the Teacher Guide.
We can't wait to see all of the adventures that you and your campers will be having with Penny and her friends this summer! Make sure that you share all of that fun by posting to our Facebook and Instagram pages, we'd love to see all those smiling faces!
---
Erin Sforza studied dance from childhood through college. She received a BA in both Musical Theatre Performance and History from the University of Tampa, and has utilized aspects of both degrees working in the hospitality industry, as an Event Coordinator for the Heckscher Museum of Art in Huntington, and as the PR/Marketing Coordinator and Group Sales Coordinator for the CM Performing Arts Center. She currently manages Public Relations for the Penny Prima® brand and Dance Connection.