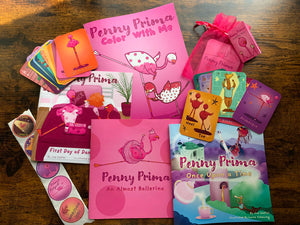 Like many great ideas, Penny Prima® was born of necessity.  At the onset of the COVID-19 global pandemic, dance teachers needed a way to connect with students at home, to keep young children engaged with class, and break down the barrier of remote dance education.  New techniques were needed to reach students at home.  Virtual dance classes forced teachers to work even more creatively to keep dancers engaged with class and getting students to log in each week required continually tapping into students' imagination to keep excitement building, even when we couldn't be together in the studio.
As we transitioned back to in-person classes, we quickly learned that this necessity wasn't limited to remote learning.  Teachers needed more creative tools to engage young dancers with dance class both at home and in the classroom.  
Enter Penny Prima!  Penny is a flamingo with bright pink polka-dot spots and she LOVES to dance, even if sometimes her long legs are awkward and cause her to fall out of her turns.  Young dancers have fallen in love with Penny because even as a flamingo, she's just like them - she loves to dance and yet experiences the same joys and challenges all young dancers face. 
The Penny Prima® brand is built on four pillars:  consumer products for children to interact with dance at home, tools for dance teachers to use in the classroom, camp curriculum for studios to offer their own branded programs, and free classroom engagement resources and training for studio owners and teachers.
Kids these days love playing on their iPads and it can seem like a challenge to get them out from behind their screens and taking dance class with the same level of interest and energy.  But if we use the same creativity, storytelling, and character development techniques, we can utilize these engagement techniques for good as well! 
---
Joe Naftal is the CEO of the Penny Prima® brand. As an artist-executive, Joe brings his experience in creative leadership, marketing, and storytelling to the Penny Prima team. Joe has taught classes and seminars for studio owners from across the world on the topics of management, business strategy, marketing, production, and technology as a speaker for DanceStudioOwner.com, the Dance Teacher Summit, the Energize Conference, Chicago National Association of Dance Masters, and United Dance Merchants of America. He is the creator of RecitalProgramAds.com and the Check In Pointe web app and his behind-the-scenes recital guide, Standby in the Wings, has been sold throughout the United States, Canada, the United Kingdom, and Australia. Aside from his work with dance studios, Joe is a lighting designer for theatre, dance, and opera and is a member of United Scenic Artists and the International Alliance of Theatrical Stage Employees. An advocate for arts education, Joe serves on the Board of Directors of the CM Performing Arts Center and Robin Becker Dance and holds a BFA from University of North Carolina School of the Arts.