Ahoy Ye! Mermaid & Pirate Camp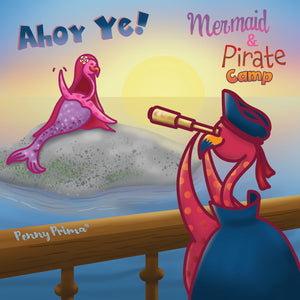 PRESALE:  Order your camp package now.  Resources will be available on or before May 1, 2023.  Marketing materials will be available immediately so you can begin advertising your event.
All aboard for this Mermaid & Pirate themed dance camp.  Join Penny Prima and her friends as you hit the high seas soaking up the sun, searching for treasure, making crafts, and rocking the boat as you dance across the ship deck!
Recommended for ages 3-8.
Your Penny Prima® camp includes everything you need to put together a super fun camp that will creatively engage your campers through movement, music, and storytelling!
Included with your Camp purchase:
Roll of Penny Prima Stickers

Free Shipping!
Digital Teacher Guide outlining activities, crafts, games, music suggestions, sample schedule, and end-of-camp showcase recommendations

One Penny Prima song, sung by the characters themselves
Video Guide for dance combinations
Coloring Sheet Designs
Craft Activity Ideas
Dance Game Ideas
Printable Certificates
Printable Event Invitation
Shopping List and Decoration Suggestions
Listing on the Penny Prima website as an authorized camp location
Camp logo pack
Marketing Resources for social media platforms, email, web, and print
Engaging camp description to use in promotional materials