Poppin' Pajama Party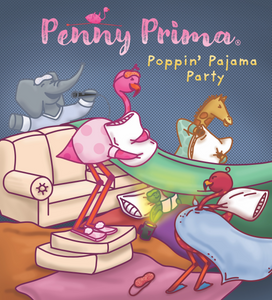 Join Penny Prima and her friends for a high-energy, dance until we drop, Poppin' Pajama Party.  Party guests will have a blast as they make crafts, play games, sing karaoke, tell bedtime stories, and more slumber party fun with their favorite Penny Prima character friends.

Pop-up camp perfect for a one-night "parent's night out", a weekend afternoon, or a school holiday.  Camp is designed for boys and girls for a 90 minute-2 hour event.  The camp curriculum also includes suggestions and additional activities to shorten or extend the event time.
Recommended for ages 3-8.
Your Penny Prima® camp includes everything you need to put together a super fun camp that will creatively engage your campers through movement, music, and storytelling!
Included with your Camp purchase:
Roll of Penny Prima Stickers

Free Shipping!
Teacher Guide outlining activities, crafts, games, music suggestions, and sample schedule

Creative storytelling voiceovers from the Penny Prima characters
One Penny Prima song, sung by the characters themselves
Video Guide for dance combinations
One Coloring Sheet Design
Craft Activity Ideas
Dance Game Ideas
Printable Certificates
Shopping List and Decoration Suggestions

Listing on the Penny Prima website as an authorized camp location
Camp logo pack
Marketing Resources for social media platforms, email, web, and print
Engaging camp description to use in promotional materials