Prima Patrol Superhero Camp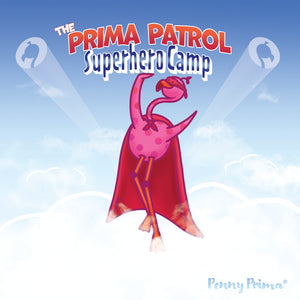 Calling all heroes in training!  Penny Prima needs your help to save the day in this adventure-packed superhero dance camp.  Dance through the skies, make crafts, and meet new friends as you master your new found super powers!
Recommended for ages 3-8.
Your Penny Prima® camp includes everything you need to put together a super fun camp that will creatively engage your campers through movement, music, and storytelling!
Included with your Camp purchase:
Roll of Penny Prima Stickers

Free Shipping!
Digital Teacher Guide outlining activities, crafts, games, music suggestions, sample schedule, and end-of-camp showcase recommendations

One Penny Prima song, sung by the characters themselves
Video Guide for dance combinations
Coloring Sheet Designs
Craft Activity Ideas
Dance Game Ideas
Printable Certificates
Printable Event Invitation
Shopping List and Decoration Suggestions
Listing on the Penny Prima website as an authorized camp location
Camp logo pack
Marketing Resources for social media platforms, email, web, and print
Engaging camp description to use in promotional materials